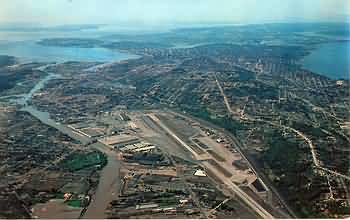 As North Texas watches a another round in the long running battle over the Wright Amendment unfold a similar battle is unfolding 1500 miles away in Seattle, WA. There Southwest Airlines has proposed that it shift its flights from the regional airport, Seattle-Tacoma, to an airport that currently offers no commercial service: King County International, more commonly known as Boeing Field.
The Sea-TAC regional facility is in the midst of an expansion agreed to by all airlines including Southwest. But Southwest decided earlier this year that the new Sea-Tac could not easily support its business model and proposed it shift to Boeing. It has offered to pay the cost of a $130 passenger facility there.
As in Dallas homeowners in the affluent King county are overwhelmingly opposed to the move and have vowed to fight all the way to any legislature or court they can find. The Port of Seattle, the Greater Seattle Chamber of Commerce and other business groups oppose the Southwest plan for much the same reasons that similar organizations in the DFW area oppose lifting the Wright Amendment. Southwest CEO Gary Kelley maintains that his planes will approach the airport over water and mitigate noise problems.

The battle has become a major issue over the past few months and the outcome is unclear. The Seattle Times has editorialized in favor of the move mostly from a stated fear that Southwest might pull-out of the region if not given its desires. However, a key figures in any effort to repeal the Wright Amendment, Rep. Don Young (R-Alaska) chairman of the House Transportation and Infrastructure Committee is outraged that federal money is being used to do an economic impact study. His displeasure with Southwest will certainly make repealing the Wright Amendment no easier.
King County Commissioner David Irons has come down firmly against the Southwest move and has asserted that there would be no support for the move if Southwest wasn't using "fear tactics by telling people they will pull out of the northwest."