DONUT 1: ESPN's Jon Barry started it.

During Sunday's Mavs-Suns game, Barry did the TV color commentary. I didn't hear it (I've got Followill; why settle for less?) but I hear from numerous readers that Barry labeled the practitioners of "gimmick defense.''

This while telecasting a game in which Dallas' Nash-led opponent scored just four points in the final 6:48, during a weekend when the Mavs allowed a total of 33 points in two fourth quarters, during a five-game run during which Dallas has allowed less than 100 and in three of them, 73, 77 and, in the game Barry was supposedly watching, 83.

I pointed out here and on Twitter (get me at @) that the "gimmick'' accusation is a bold one to make against a team that yes, plays some zone ... but also does so featuring Tyson Chandler, Jason Kidd and Shawn Marion, three of the most credentialed defenders of their generation.

And that's when the fun started.

DONUT 2: "Haters,'' apparently, are everywhere. They certainly exist in Utah. Just ask Dirk Nowitzki. (But listen closely ... and then when it's Ian Mahinmi's turn to talk, you might want to turn down the sound a bit):

Dirk: "Haters!''

Ian: "AGHGKTHSLGHGH LAKAJSSJQA!''

DONUT 3: So anway, what is Jon Barry's problem?

Some of my Twitter brothers and sisters remind me of things like this: Barry didn't have Dallas in his top-five rankings even when the Mavs were a long-term fixture as the NBA's hottest team. (That defied all oddsmaking being done at places like BetUS online betting). Many sarcastically note that maybe Barry cannot recognize sound defense because he never played it. And our man points out that Barry is the same shallow-as-a-Frisbee-thinking Mavs-watcher who recently claimed that unless Dirk is making 3's, he isn't helping his team.
Does Jon Barry's problem around here go deeper than that?


DONUT 3: To DB.com contributor Nick Reed, one of The 75-Member Staffers who (probably just like you) knows infinitely more about the Mavericks that Jon Barry apparently does.

Nick's pitch-in: If Barry has a dislike for Dallas, it is easy to imagine it stems from the '05 Mavs playoffs against the Rockets.

That was the year where the Houston players were doing what DallasBasketball.com labeled their "3-Point Circle-Jerk Motion'' after every made basket. Barry was particularly obnoxious in his excessively demonstrative celebrations.

Celebrations that, of course, were premature.

In Game 7 of that series, in which Dallas came back to shock the Rox, Barry was 1-of-6 and 0-of-4 on 3's.

The Rockets lost by 40.

That was Mr. Barry's last trip to the playoffs.



DONUT 4: At one point, friend-of-DB.com himself got involved in the conversation.
'Trix's contributions? In addition to pushing Mavs to my Twitter account @ (thanks, kid!), he slammed home the point in a simple, unsolicited comment offered as guidance for me and pointed at Jon Barry.
"He's a hater,'' Marion said.
DONUT 5: Mark Followill will take us up the mountain and on the road with the Mavs in his weekly column, FOLLOWILL'S 5, coming up later today!

DONUT 6: Don't look now, but one more push from behind the Spurs is probably worth a shot. SA's lost four straight. LA is 3.5 behind. Dallas is 4.5 behind. I betcha Timmy hurries back a little sooner now. And if we're rooting at all for a jouster between LA and SA, aren't we rooting for ... ack! ... the Lakers?
DONUT 7: It's SBA signups time!
Check out my friends at the Shamrock Basketball League. They'll be in 13 of Texas' biggest cities this year, with 20 different divisions running simultaneously, from the first week of June through August, playing once a week. The State Finals will be in San Antonio. The league is open to ALL PLAYERS ages high school and up, and our players will have an opportunity to be seen by scouts as well as an opportunity to make the All-SBA team to play against amateur and NBA players in Pro-Am tournaments.
SBA is friends of DB.com and official partners of Hoop-It-Up. Check 'em out at
DONUT 8: The hottest Mavs shirt in ? "TAKE THAT WIT CHEW!'' is right up there ... but "REUNION ROWDIES'' is about to overtake it ... and it's about to flood the AAC, too. Stay tuned for the reason why ... but in the meantime, go get yours!
DONUT 9: Now Mavs coach Rick Carlisle is doing his "Duh. Winning'' Charlie Sheen imitation. Next, your 82-year-old Granny will say it, and then it will be official: This whole sordid production will have 'Jumped The Sheen.' ©
DONUT 10: How, you ask, do I get some free swag from DallasBasketball.com?
Happens all the time. Between and The and here, stay heads-up!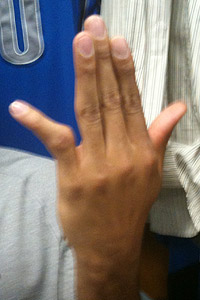 Oh, and stay in touch with us as we work towards a Playoff-Watching Get-Together at ThreeSheets! ... where we'll have even more Mavs swag!

DONUT 11: Maybe was just going to NorthPark Mall to buy a belt? Did you ever think of that?
DONUT 12: I noted on FS Southwest the other day that Shawn Marion's pinky finger is permanently headed east even when 'Trix is going west.

What was I talking about? Courtesy of , there's a good look: Marion going one way, his pinky going the other ... maybe giving the finger to "Hater'' Jon Barry.