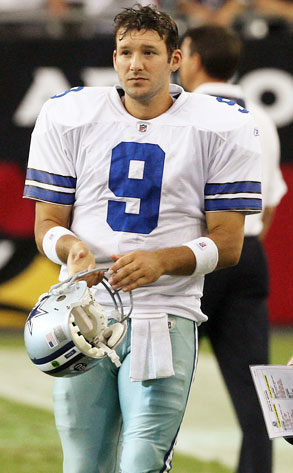 Tony Romo believes in balance.
"Football? It's always about football, everything we do,'' Cowboys quarterback Tony Romo tells me – and no, there is no irony here even though Tony utters these words as he strides toward the tee box on the eighth hole at Cowboys Golf Club in Grapevine, Texas.
Romo grew up small-town Burlington, Wisconsin. But … no velvet rope can contain him, as he habitually demonstrates – even sometimes in violation of the wishes of his employer -- an uncanny comfort level as a jet-setter from Dallas to LA to Cabo.
He humbly says he was elevated up his high-school football team's depth chart due only to a lack of roster depth after originally planning to focus on soccer. He was not heavily recruited and therefore landed at Eastern Illinois, where despite a terrific career (2,950 yards and 33 touchdowns in his senior season, three Conference Player of the Year trophies and The Walter Payton Award as the best player in Division I-AA) he went undrafted by the NFL. And as recently as 2005, he strolled through the maze-like halls of the team's Valley Ranch headquarters unrecognized even by some staffers. But … he seems untroubled by the demands of his status as the sitting head of state of America's Team, fitting nicely under the crown once worn by quarterbacking legends like Don Meredith, Roger Staubach and Troy Aikman.
Spend a day with Romo, as I did recently, and you are taken by his sincerity. (If his "Aw, Shucks'' aura is an act, dude is a regular Daniel Day-Lewis.) But … few players can elevate themselves beyond an absence of pedigree, beyond a lack of life-long love from talent evaluators, beyond the NFL Playoffs failures that had plagued the National Football League's most loved/most hated franchise for 13 seasons before last season's it's-about-time breakout win.
This mid-May tournament is being played on the eve of the start of OTA's at Valley Ranch. It's not really for Romo's benefit; rather, he is a "host'' of sorts, as this tournament is staged by owner Jerry Jones and the Cowboys as a thank-you party for the team's corporate sponsors. Though Romo seems to love golf almost as much as he loves football – and while he does try to find that balance between his avocation and his occupation -- his job here to shake hands, kiss babies, and say nice things about that airline and this beer company and that automaker.
And to keep it on the greens. Straight and long. Out of the rough.
"Just like football,'' laughs Romo, who begins his quest to do all of that on Sunday night in Washington, the Cowboys-at-Redskins 2010 season opener.
I ask Romo about 2009's Week 2, against the Giants. Huge game at Cowboys Stadium. NFC East showdown game. And Tony didn't keep it on the greens. He tossed a trio of maddening interceptions in the Sept. 20 loss to New York, a performance that at the time raised questions about Romo's level of talent, level of commitment, level of … well, everything.
Yes, it was only Week 2. And yes, it was only one loss. But this was a Romo who had verbally tied himself to his precious balance. So the questions came, justifiable or not: Can't Tony Romo be a "celebrity quarterback'' after he first becomes a "great quarterback''? Is there a tie between his penchant for playing Kamikaze-style and singing Karaoke-style? Forget the starlets; can Tony Romo become legally wed to Jason Garrett?
Romo heard the criticism. Did he heed the criticism?
"I don't think it was about outside comments,'' he says. "I just think a light bulb came on for me. I played that game, played it the best I could at the time. … but then I saw what I'd done. I really felt like I was a big reason, individually, why we lost that game. I studied it and started seeing all the things – little things and big things – that I could've done better.''
A light bulb? Above your head? Just like in the cartoons?
"It was just a realization, a realization that I think was going to come at some point,'' Romo explains. "Football, or playing quarterback, or whatever is just like everything else in life. You can only have the experience that you have. And then you grow. You get more experience. You get to the point where you feel like you've seen all the tests. And then you are more ready to pass those tests.
In the final 14 games of Dallas' regular season, Romo threw just six more picks. By the end of the year, he'd totaled just the nine – a career-low.
That is the sort of Romo number that fits with Romo's self-evaluation – and self-evaluation is something he does a lot of.
"More than ever, I realize that the way to get better is to study – to study yourself,'' he says. "Over and over and over again. When do you take a chance? How important is it to protect the football, first and foremost. A big part of it, I think, is to not only know the opponent, the playbook, the gameplan and to not only know your job inside-and-out, but also to know yourself inside-and-out.''
Romo has a well-earned reputation as a chance-taker, a daredevil. A "gunslinger,'' they like to call it in football … but all the excitement and romance of that term gets shot dead once a guy slings three picks in a game. This gunslinger, though, in addition to cutting down his interceptions, also went through the final seven games of the regular season without a fumble – an accomplishment that has as much mental impact as it does physical impact.
In some circles, Romo remains infamous for the events of the 2006 NFL Playoffs, when in his first season as a starter he botched a chance for Dallas to win a game at Seattle. As the holder, Romo mishandled the snap on a potential go-ahead field goal in the closing moments of a wild-card playoff game. That play coincided with the end of coach Bill Parcells' domineering reign in Dallas. And it coincided with the birth of Romo's image as a loosey-goosey athlete with a mastery for the dramatic – but little else.
That image was bolstered the next season when Romo earned headlines for opting to use the week off before the playoff game against the Giants by scooting off to Cabo San Lucas with then-girlfriend Jessica Simpson. Balance? Especially once Romo followed his vacation by participating in yet another Dallas postseason loss, the fan base harbored little interest in balance.
And of course, there is the issue of Romo's golf – maybe not an issue for fans, but certainly a point of discussion for mediots like me who ponder whether there is enough room in the day for an aspiring Super Bowl quarterback to fit it all in.
As this recreational tournament plays out, Romo is also thinking about competitive golf. He fired an even-par 72 over at Stonebridge the other day to allow him to advance one step nearer qualification for the local PGA stop, the Byron Nelson Championship in Irving. Depending on what happens there, he might also try to qualify for the U.S. Open.
Does any of that look bad? Does it matter how it looks? Is any of that detrimental to his football?
Let's ask fellow avid golfer and teammate Terence Newman chime in.
"Some people might not understand this,'' Newman says, "but Tony gets in his practice time and gets in his study time as a football player. Plenty of it. And then in his off-hours, he does something else. Just like the rest of us. There's no problem there. He takes his football very seriously.''
At this moment, some of the local media are wondering what will happen if a qualifying tee time conflicts with an OTA practice or any other Cowboys commitment. Romo answers while smiling that familiar smile – his dimples maybe just a tad exasperated.
"At the end of the day, football is what I do,'' he says, assuring all that the qualifying tournaments do their best to give him late tee times as to not conflict with OTA stuff – but that if there is a conflict, "it's all football. There won't be a conflict.
"What I really want to do is get better at football. I think (fans) know that."
I ask him about his perception about the perception evidenced by the media's questions. Rarely was Roger Staubach's commitment to football ever doubted. Rarely was Troy Aikman's commitment to football ever doubted.
"I am competitive,'' Romo says, using golf as a jumping-off point. "I want to win. I compete for the sake of competing but the end result is also to win. There are things I take more seriously than other things. Golf, as much as I love it, I don't take that seriously. It's my hobby. It's fun. It gives me a chance to compete and it gives me a chance to experience winning.
"I want to win. That's the deal if it's golf or basketball or soccer or Ping-Pong.''
Or football.
"I think people mistake being laid-back or friendly or having that smile on your face, I think that gets confused with being lacking in something,'' says Jerry Jones. "That's simply not the case with Tony. I think he's been steeled, if you will, by the criticism and by the struggles here and there and by the adversity. But the Tony that you see now has always been a part of his makeup. We saw that from the start.''
Maybe so, but Jones – at least when he's being videotaped by a hidden cameraphone while under the influence of barroom camaraderie – has admitted that the Romo story is a fortuitous one.
He signed with Dallas as an undrafted free agent in large part because Sean Payton, then of the Cowboys staff, was familiar with Romo because Payton, too, is a former Eastern Illinois QB. Romo always had a certain verve and a certain level of athleticism; but at 6-foot-2 in golf cleats, he is something short of the prototype.
When Jerry is heard and seen on that ill-gotten video tape saying, "Romo was a miracle. … He almost never got in, and he almost was gone. …'' he is slurring. But he is slurring the truth.
Burlington, Wisconsin has a motto: "The Town with Tall Tales." It fits. Tall tales. And big realities. Balance.
Now, after eight years in the NFL, Romo is being allowed by the Cowboys to have a greater voice in team matters. Now, he's not quite to the level of Troy Aikman and Michael Irvin (and later, Deion Sanders), who I used to joke were promoted to Vice President of Player Personnel positions in the middle of those 1990's Super Bowl runs; Jones absolutely took under advisement the football opinions of the leaders of those teams. (Aikman, for the record, is as responsible for the unfortunate first-round drafting of tight end David LaFleur. Deion's pet "signing'' was buddy Broderick Thomas, who didn't work out despite being handed a starting job. And Irvin to this day will swear the Cowboys' biggest 90's war-room errors resulted from Jerry Jones and Jimmy Johnson daring to overrule him when he urged them to select more University of Miami athletes).
But Romo – by virtue of his position, his personality, his performance, his experience and maybe his salary (it averages $11.25 million per year on a contract that runs through 2013) -- is worth listening to when it comes to the evaluation of players, old and new, expected to surround him this year, expected to help propel Dallas to the playoffs and beyond.
The Cowboys are coming off an 11-5 effort and a second NFC East title in three years. Their manhandling of the Eagles in the regular season and again in the first round of the playoffs sets up Dallas as a team that can lay claim to being the division's best team and within a bounce of worthiness alongside eventual Super Bowl champion New Orleans and the NFC title game loser, Minnesota. (That Dallas claim comes, of course, with a quick skip-over of the way the Vikings dismantled the Cowboys in the second round.)
Certainly on the offensive side of the ball, Romo is the hub of the wheel – and the constant. He set franchise records for completions (347), passing attempts (550) and passing yards (4,483). He led a T.O.-free offense that gobbled up a franchise-record 6,390 yards.
None of that is quite the same as Roger and Troy winning all those Super Bowls, but still, quite something. Oh, and all very "Romo-friendly,'' as Jones predicted a year ago.
And assuming Romo's self-evaluation about that light bulb is correct, that can continue to be the constant.
To the offensive supporting cast: The Cowboys are about to undergo a facelift in the offensive line. They are contemplating a shift of power from running back Marion Barber III to Felix Jones. They employ an all-timer at tight end in Jason Witten but continue to try to make erratic talent Martellus Bennett work for them. They have shuffled big-name wide receivers around the board like Chess pieces, from Terrell Owens to Roy Williams to Miles Austin to first-round draftee Dez Bryant and … well, let's begin there.
"For me, it's always exciting to add weapons to the offense,'' Romo says. "They say (Bryant) is very natural in terms of catching the ball and doing things with the ball. From what I can gather, he's got that big-play ability.''
I ask Romo if the rapid ascension of Miles Austin represents a blueprint of sorts for what Bryant might accomplish.
"Miles is proof that if you put in the work, you can be successful,'' the QB says. "That's the lesson there. It goes for (Bryant) but for everybody, really. Miles competes on every play in practice. We're going to have competition at the receiver position, I think, and Miles will lead that and that will be huge for us.''
The other most notable change might just be in the offensive line, where long-time left-tackle anchor Flozell Adams is no longer with the club, and where injuries and age might be a problem.
"It's not something I worry about,'' says Romo, sounding just a little bit … well, worried. "I'm sure the other guys will do a great job. I have been spoiled by the great job our line does, but if something does happen to go wrong, I'll just trust everybody to make the right decisions. It's not something I can control.''
And overall?
"The nucleus is still really good, I think, and management has done a great job continuing to add weapons, so I like our chances,'' Romo says. "You have to keep climbing. You step up, you learn, and now we come back for another year and try to step up again. There's another level, and another level, and we're trying to get there.''
Some of the sponsors have gathered at the eighth tee box Cowboys Golf Club for photos, and of course, quarterback Tony Romo is required to be front-and-center. But there is a slight delay.
"I need to pee,'' he whispers, and he trots off to the woods.
So they all wait. Why waste even one snap of a camera on a group that doesn't include its celebrity quarterback?
While former mentor Parcells frowned on the notion of the "celebrity quarterback,'' and while Jones and Garrett have over the years tried to reel in Romo's adventuresome nature (on and off the field), the fact is … it is impossible to be a two-time Pro Bowl QB without being a celebrity QB. It is impossible to be a Cowboys QB without being a celebrity QB.
So when NBC's "The Biggest Loser'' calls looking for a famous jock to guest-star, Romo is booked. When the PGA Tour's Byron Nelson Championship needs a boost, DFW media suggests Romo be given an exemption. A heavy-metal band invites him to jump onstage at the House of Blues? He jumps. Your College Football Hall of Fame luncheon needs a speaker? He speaks. Your church-league basketball player needs a guy who was an all-conference high-schooler alongside NBA star Caron Butler? He balls. "Jimmy Kimmel Live'' needs a jock to join its snarky "Handsome Men's Club''? He joins. There's a chance to put on a tux and escort sweetheart Candice Crawford (a former Miss Missouri now doing TV work in Dallas) to the White House Correspondence Dinner? He escorts
And when Jerry Jones needs a headliner to star in his Sponsors Appreciation Golf Tournament, he gets cooperation from everybody from Daryl Johnston to Leonard Davis to Terence Newman to Roy Williams … but he needs cooperation from Romo.
"It's my pleasure to be involved in this,'' Romo says, "because it's a chance to thank and to hang out with so many of the behind-the-scenes people who help make the Dallas Cowboys what they are. Plus, hey, it's a chance to play golf!''
Romo zips up and returns from his potty break. The sponsorship gang lines up for a series of photos. Suddenly, a gaggle of young ladies who are serving drinks also want their photos taken with Tony. Before that commotion can settle, golf carts are speeding down the path; Cowboys Golf Club has freed exactly six carts for use by the media, and – you guessed it – the golf carts that have just sped to the scene number six.
Everybody is in the photo now. The guy behind the camera instructs Romo and the rest to smile and say, "Super Bowl!''
Near as I can tell, everyone at least mouths the words … except for Tony Romo.
Maybe he thinks of it as a jinx. Or maybe it's just a bit too silly, even for him. Or maybe his mind is elsewhere. Perhaps weighing the goofiness and the golf and trying to find that precious balance?
"Shoot! I lost my driver!'' he says, and for the first time all day, he's not grinning. "Did Jerry (Jones Jr.) drive off with it? It's got a red shaft … You seen it? … Who would take it? … Did I leave it somewhere?''
Yes, I tell him. I think he took his driver with him when he relieved himself in the woods.
"Nah. …'' says Romo, but then a light bulb comes over his head. Just like in the cartoons. He retraces his steps and finds his driver right where he left it. … once again avoiding the turnover.