Nancy Lieberman was a wide-eyed 18-year-old when she heard an apparent compliment from an expert in judging basketball talent.
"Kid, you've got potential,'' the man told the girl.
"Really?'' young Nancy replied excitedly.
"Yeah,'' said the expert. "And you know what potential means? It means you ain't done s---.''
Lieberman is all grown up now, considered the greatest female basketball player of all time, and is in Las Vegas this week wearing her many hoops hats. I recruited her to help me make a Mavs Summer League judgment on guard play … Roddy Beaubois, Dominique Jones and Jeremy Lin.
Do these three guys have … potential?
"Let's begin with some perspective,'' says Nancy, who has a vested interest in some of the Mavs' summer prospects as they could eventually land on the Texas Legends, the Frisco-based, Mavs-affiliated D-League team she will coach this year. "Reality will set in in September and October. This is just a step … but the talent is real, for sure.
Indeed, these are practice games. In DB.com's evaluations, it is journalistic tradition (and habit) that causes me to make sure the scores are in the early paragraphs. But who cares? All that ultimately matters here is the individual. How athletic is he? How polished? How smart? How does he comport himself?
And more perspective: How does any of that translate from practice games in the desert to playing at the AAC in front of 20,000 people and having to deal with Kobe and CP3 and Wade?
"Exactly,'' says Lieberman, who of course will make history as the first woman to coach an NBA-affiliated men's team. "Some of these guys will have contracts in Europe. A few might be ready for the NBA. But most of them are going to have to come through the D-League, anyway, before they are ready for the brightest lights. And if they come to us, we are ready to teach.''
Nancy on Roddy B
I say what Roddy B has done so far – at least while participating in the point-guard experiment – has not translated. We can chalk this up to him learning a "new'' position … and we can wonder whether the experiment is worthy or whether they ought to just let the kid's natural skills let him be what he is. … But this whole Summer League experience is supposed to be about Beaubois taking a huge leap.
And he's not taking it.
On Thursday, he was limited by an ankle problem. But he was limited, too, by silly fouls and inattention to detail. Dallas coaches say Roddy B is sometimes "too cool for school'' … that can be both a strength and a weekness. I'm going to take it into consideration here and believe that Roddy B's struggles are not a matter of being intimidated by challenges like John Wall.
And of course, we're damned sure not going to start thinking that Roddy B's struggles are due to us having overrated him.
"Fish, that's the problem,'' Nancy says. "We've got people who have already anointed Roddy B, they are already saying he's a star. That's just not the case. He has a chance to be great. But right now, he's just a good player and a good kid. I think there is pressure on him that doesn't need to be there … but of course, playing under pressure is part of the deal.''
Nancy wants to add one important thing to her Roddy B analysis.
"The reason there is that pressure and those expectations,'' she says, "is because he can do it.''
Nancy on Dominique Jones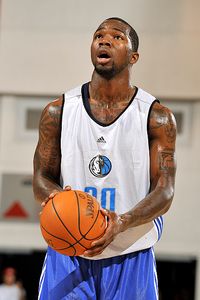 Now to DoJo. , the Mavs seemed to feel comfortable telling the first-round rookie to play "sic 'em'' on Wall … and it worked to some degree. The top pick in the draft got to the line 15 times, had 10 assists and scored 21 – but did so on just 4-of-18 shooting.
Dominique, though, countered with the muscular style that Dallas raved about on Draft night. The numbers: 28 points, 12 free-throw tries, four rebounds and four assists – in other words, a match to what Washington got out of Wall and a match to what Dallas hoped for from Beaubois.
"He's everything they billed him as, in terms of being physical,'' Lieberman says. "You can't go wrong with that as a starting point.''
There is no evidence yet that once the year matures beyond this time that DoJo will actually get real regular-season minutes (if coach Rick Carlisle hesitated to play Roddy B as a rook
…) … But he is clearly a prospect who has already performed beyond Maurice Ager-level.
That's a start.
Lieberman makes an unusual comparison.
"Dominique Jones reminds me of 50 Cent,'' she says.
You mean 50 Cent the rapper?
"Yeah,'' she laughs. "A lot of people say Dominique reminds them of (Detroit's) Rodney Stuckey. But the way he's built and the way he smiles, I think he's just like 50 Cent. ... and seriously, this guy is an NBA player in every way.''
Nancy on Jeremy Lin
And then there is one more guard, Jeremy Shu-Hao Lin, the hustler from Harvard. He wasn't heavily recruited out of high school and he went undrafted in June. But here he is, a pure point guard who is long, who finishes with dunks, who fights in every second in the floor, who is (obviously) smart. …
Lin will play professional basketball. Somewhere on the planet.
I understand the temptation to say Lin is a "tall J.J. Barea.'' That'd be nice, but JJB has a pedigree as a shooter than Lin does not possess. Furthermore, JJB has already accomplished what Lin now dreams of. So let's show some respect for the guy who has made the climb.
"Again, let's remember the level of basketball we're talking about here,'' Nancy reminds. "Perspective.''
I understand the temptation even more to say Lin should be suiting up in Frisco this year. That makes sense on so many levels. …
"My job will be to accommodate and serve, in any way possible, what Rick (Carlisle) wants,'' Lieberman says. "We'll teach what the Mavs teach. What Rick, Mark (Cuban) and Donnie (Nelson) want for the Mavs, that's what we'll do at Frisco. I don't know who that means we'll coach yet. But we'd be excited to have any of these guys, you bet.''
It says something that the Vegas crowd opened Thursday night by cheering wildly for the highly-hyped and highly-gifted Wall, but ended the night cheering its appreciation for Jeremy Lin.
"Smart fans can see that Jeremy knows how to use his body to get separation, that he knows how to play the angles on defense, that he's fearless and that he's smart,'' Nancy says. "He's more athletic than you think he is … and he's been well-coached. Not a good shooter yet, but if a point guard works at shooting? All they have to do is see how Jason Kidd re-invented himself. That's all about work ethic, and I think Lin has that.''
Lieberman, by the way, joins our here.
"You go to his practices and they are extremely detailed,'' she says. "Every single assignment, down to the inch, is accounted for. In a way, it's 'only' Summer League. But in a very real way, it's also the NBA, and Monte is teaching it that way, and doing it well.''
What does it all add up to? Hopes and dreams and potential …
Which right now, as Nancy Lieberman knows, means they ain't done s---.
Nancy Lieberman's new book, "Playbook for Success,'' will be available in October. "Lady Magic'' is overseeing her , with two more DFW events in August.