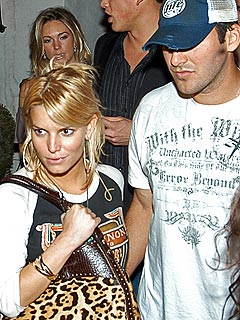 "I want to taste greatness!'' said the Cowboys fan, trying to negotiate his way to a sip of Tony Romo's leftover beer. It was a pre-Thanksgiving feast fit for a king and his queen. … or, at least, for a quarterback and his songstress. … oh, and for their admirers, too.

How did Tony Romo and Jessica Simpson fuel themselves for Thursday's 34-9 win over the visiting Seahawks? By dining at Champps in Las Colinas, the sports bar located just south of Valley Ranch, just west of Texas Stadium and just a few out-patterns north of Romo's new pad.

The ensuing game was eventful – I'll get to that in a moment – but first allow me to get my TMZ on, OK?

So Tony and Jess are sipping beer and nibbling on wings, right? And then Romo leaves to go to the bathroom, you know, and when he exits the bathroom and re-enters the main dining area, guess what?

The big crowd of restaurant patrons gives him a standing ovation! Awwww!

"Tony was very cool, as you'd expect, and Jessica was much more shy than you'd expect,'' a Champps server tells us. "They sat by the fireplace and they had two bodyguards kind of hanging around; they didn't want photos taken. But otherwise, they handled all the attention very well.''

There was one maybe creep-out moment, though. As the celeb couple left the restaurant, a couple of diners scrambled over to the wait staff, asking if they could take possession of Romessica's half-guzzled beer and chewed-on wings.

"I want to taste greatness!'' said the Cowboys fan, who in fact would've just been tasting Tony Romo's backwash.

Blecch.

For real greatness, Romo's admirers would have to wait until Turkey Day, when the Pro Bowl quarterback served up a 300-yard game, completing 22 of 34 passes for 331 yards and three TDs. He was finger-lickin' good. … even though it was just nine fingers worth.

"We'll get that splint off, and he might throw for 300 yards,'' coach Wade Phillips deadpanned. "Oh, wait. … he did (throw for 300 yards).''

Romo really might be back to 10 fingers in 10 days, when the 8-4 Cowboys face their next challenge, in Pittsburgh. Two injury concerns that blemished an otherwise ideal Thanksgiving Day at Texas Stadium – Marion Barber's toe and DeMarcus Ware's knee – will likely be healed by then, too.

With Romo as the triggerman, Jason Witten caught nine for 115 yards and a score. Terrell Owens was good for five for 98 and a score. MB3 had a rushing TD, rookie tight end Martellus Bennett contributed two catches for 35 yards and a touchdown, and Roy Williams caught two for 51.

Not to be outdone, Ware and the defense totaled seven sacks – and after each, every Cowboy sackmaster performed a silly little wing-flapping Turkey Dance. Sure, it was only the Seahawks – in the NFL family of meats, Seattle is Spam -- but why not celebrate? Left for dead by cynics who fail to understand the ebb of the NFL, the flow of the NFL and, yes, the mediocrity of the NFL, Dallas has now won three straight.

"This is the time to put your head down and go forward,'' Romo summarized. "It'll be a challenge for us getting in the playoffs, but we feel very confident in our ability to win football games. I like our chances.''

What does Tony Romo give the Cowboys? Maybe a 10th finger, maybe a crack at winning some December games, maybe a figurative sip of his celebratory beer. … maybe a taste of greatness?