After having spoken to author Jeff Pearlman for a total of three hours in his research for the just-released book "Boys Will Be Boys,'' (not to mention a more recent exchange in which he reviews my review) I was excited to receive and review a copy of the work subtitled "Glory Days And Party Nights Of The Dallas Cowboys Dynasty'' for more than just the obvious reason. Yes, a review of the 1990's Cowboys team that I covered as a beat writer would be a tantalizing read.
But frankly, first I rushed to the Bibliography and the Index to see if I'd been mentioned in the book. … and if I'd made a complete ass of myself.
Let me get that issue out of the way: Pearlman does me right. He quotes me four times in the book, and he represents me with complete accuracy. (An aside: I'm usually on the other end of the interview process, so I've had some concern that some twisted quote might result in a nasty phone call from an Aikman or an Irvin or a Jerry.)
On Page 60: "If you could get any of his detractors to spend five minutes with Jerry, he would have zero detractors,'' says Mike Fisher, who covered the team for the Fort Worth Star-Telegram. "Nobody talks about this stuff, but early on there was a Valley Ranch janitor who died while visiting Mexico. His family couldn't get his body back to the U.S., so Jerry contacted the Mexican government and worked it out. Who does that?
"Unfortunately,'' says Fisher, "back then generosity didn't guarantee wins.''
On Page 170: Aikman kept the week simple. A few days before the (Super Bowl) game, he was driving along the Pacific Coast Highway with Mike Fisher and Richie Whitt of the Fort Worth Star-Telegram when a radio DJ cracked the joke. …
On Page 218: "Jimmy's giving speeches to his players about how everyone's in this together and the value of teamwork, then (Jaguars owner) Wayne Weaver calls to get a recommendation for Norv and Jimmy sells himself,'' says Mike Fisher. … "Jimmy f----d Jerry, he f-----d Norv. While he's telling his team, 'One for all, all for one,' he's lifting his skirt toward the Jaguars.''
On Page 309: "It (the players' 'White House') was a frat house,'' says Mike Fisher. … "But most frat houses don't specialize in hookers and cocaine.''
Do I come across as a hobnobbing, Jimmy-loathing, whore-tolerating, foul-mouthed SOB? Yeah, that's all about right.
Anyway, back to the book.
Pearlman's great accomplishment here is flushing out some of the precise details of incidents and habits of the stars that the paying-attention Cowboys fan already knows something about. For instance: Michael Irvin had women in his room? Pearlman tells you that it was a dozen women, and he gives the time and the date. And their names.
Writes Pearlman: "The dean of Dallas decadence was wide receiver Michael Irvin, known as The Playmaker. "Did he love snorting coke? Yes. Did he love lesbian sex shows? Yes. Did he love sleeping with two, three, four, five (yes, five) women at the same time in precisely choreographed orgies? Yes. Did he love strip clubs and hookers and house calls from exotic dancers with names like Bambi and Cherry and Saucy? Yes, yes, yes."
Again, you knew Michael was a womanizer. You did not know their names might've been Bambi, Cherry and Saucy.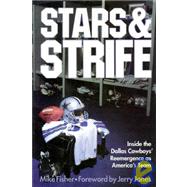 Much of the other material about the standout Cowboys, though, seems retold -- though entertainingly-retold – from newspaper accounts (in both my Fort Worth Star-Telegram and the Dallas Morning News) and from (you guessed it) "Stars & Strife,'' my 1993 book that chronicled the era as it was happening. Pearlman was obviously diligent in reviewing material written at the time. Still, overall, it is more of a detailed (and more X-rated) recap of available information than it is a scoop-filled revelation. (By the way, some of the juiciest tales are now being .)
Pearlman does tip his cap to "Stars & Strife'' in his Bibliography, and he does something else akin to the style of my book: He largely tries to let the players, coaches and executives detail the stories and make the judgments, rather than attempting to do so as an outsider.
Strangely, though, while it it obvious that Pearlman conducted dozens of interviews for the book, it seems principles such as Deion, Emmitt, Haley, Aikman, Jones and Johnson did not make themselves very available to him, if at all. As Pearlman has the cache of having been a former Sports Illustrated staffer – and inasmuch as the book advertises him as a Cowboys "insider's insider'' -- that seems odd. Pearlman's answer in attempting to throw dirt in this hole: His book features insights from such non-luminaries as Robert Jones, Antonio Goss and Clayton Holmes. (Who? Who? Who?)
The technique works, in a sense, though; the view of Cowboys life as one big sexcapade certainly has never before been told through the eyes of Joe Fishback. (Who?)
In , Jeff explains that getting the Clayton Holmes of the Cowboys world to talk is actually more valuable than getting Emmitt Smith to open up. It's different. But more valuable? That's a dubious claim, at best.
That issue happens to be one Jeff and I spoke about via email in recent days. In a response to my Clayton Holmes observation, Jeff tells me: "I will question why you had Jerry write the forward (for "Stars & Strife.'' How can you try and project a neutrality while having the team owner write your forward?''
My answer: Because in 1992-93, I would humbly submit that I was truly as much a Cowboys "insider's insider'' as was journalistically allowable. So first, I got Jerry to write the forward because I could. And second, my logic in doing so holds up when I ask myself this question: If Jeff Pearlman ever writes a book about the Civil War and can get Abe Lincoln hisdamnself to write the forward, should he?
And as far as "neutrality'': Pearlman, like most of us, cannot help but inject his own views and impressions into his book.
He makes a huge assumptive leap in detailing the Everett McIver-gets-stabbed-with-a-scissors story and portraying it as the declarative "end of a dynasty.'' He writes repeatedly of "long-legged blondes with large chests,'' to the point where that variety of female seems less a Cowboys obsession than that of the author. (Believe me, there were short girls with dark hair, too.) And he certainly makes Charles Haley's penis seem like, er, the straw that stirred the drink.
Says Jeff in an email to me: "Mike, I do appreciate the review; (I) harbor (no) grudge whatsoever. … no beef. … I thought it was fair. … But I do feel like, with some of the Dallas writers, there's a sense of, "You weren't here—how can you write this book?" When, in truth, that's my greatest advantage.''
And there we go again with the implication that in-depth visits with Clayton Holmes are more illustrative of the 90's Cowboys than having actually been in the eye of the storm – right alongside Deion, Emmitt, Haley, Aikman, Jones and Johnson. I respectfully submit to Jeff that his version and perspective of those Super Bowl years is, again, different. But it is not an advantage, great or otherwise.
In the end, "Boys Will Be Boys'' will rest on my bookshelf as a companion piece to "Stars & Strife.'' And you know, there's been a vacancy there; I certainly wasn't going to provide the honor to any of Skip Bayless' tripe. It's worthy of the same spot in your library, but until then, here's a shortcut for you and all the players, coaches and staffers who start by doing the same thing I did – searching for answers to the question, "How does it make me look?''
That shortcut to those answers:
NOT LOOKING GOOD
JERRY JONES – In addition to re-telling details about Jones' womanizing already printed in a book written by former Jones pilot Todd Cawthorn, Pearlman asserts that in terms of football know-how, Jerry is a "dolt.''
CHARLES HALEY – Haley is (I think) accurately portrayed the way I've portrayed him for years, as a chemically-imbalanced bully. And a really good football player.
EMMITT SMITH -- Emmitt's late-career selfishness is noted, though it is a disappointment that Pearlman relied on "unnamed sources'' to tell that truth. A simple call to one of Emmitt's best friends, Irvin, would've earned Pearlman on-the-record truth.
SKIP BAYLESS – "Evil. Pure evil.''
DALE HANSEN – Based solely on Pearlman's assessment of Hansen's feud with Barry Switzer, the author simply destroys the Channel 8 sports anchor. I'd love to see a Hansen-Pearlman debate right about now.
LOOKING GOOD
TROY AIKMAN – Pearlman engages in some near-hero-worship stuff here. The inference here is that all the black players were chasing booty while Troy and the white guys were just playin' football and singin' country songs. The inference would be inaccurate. Troy was, in fact, as much a practicing heterosexual as the next handsome young millionaire.
JIMMY JOHNSON – Jeff falls into the "obsessed with his job'' trap on Jimmy, insisting that he didn't like vacations and spewing the old cliché about Jimmy divorcing his wife in order to be married to the Cowboys. (In fact, Jimmy divorced his wife while at the same time using Jerry's money to buy a house for Jimmy's hairstylist girlfriend, a house just down the block from Jimmy's.)
CLAYTON HOLMES – Pearlman obviously took a liking to the kid; in the Times Q&A, he even mentions Clayton Holmes as one of Jimmy's "successful'' draft stories. Perplexing.
JIM DENT – The accomplished Dallas-based writer is referred to as "legendary.'' Twice!
MARK STEPNOSKI – Through the fog of his pot-smoking, Step comes across as a Jimmy-hating voice of reason.
MIKE FISHER – I don't come across as a complete ass. And that counts for something.